Diseases and Vaccinations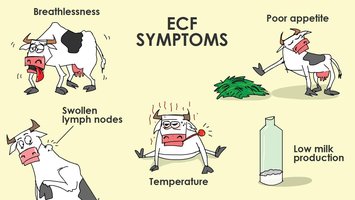 Another way of controlling diseases is through vaccination. Below is a list of some of the common diseases to vaccinate against and at various ages. Make sure you get a Vet to vaccinate your cows for you. DON'T do it yourself.
Brucellosis
Age: 3-8 months for heifers
Application: Once in a lifetime
Comments: During threats of outbreak the whole breeding herd may be vaccinated. Use vaccine with care. S19 live vaccine can cause brucellosis in humans.
Anthrax and Blackquarter
Age: 3 years
Application: Yearly or upon warning of impending outbreak
Comments: The vaccine is affordable and effective. Anthrax is deadly for humans and animals
East Coast Fever
Age: 1 month and above
Application: Under the ear
Comments: Only licensed veterinarians who are trained on infections and treatment methods should use and administer
Foot and Mouth disease
Age: 2 weeks and above
Application: Every 6 months in endemic areas.
Comments: Different strains exist. Consult you veterinarian on the choice of vaccine.
Rabies
Age: 3 months and above
Application: Cattle can be vaccinated annually and must be vaccinated when there is an outbreak
Comments: This is the only vaccine that can protect already affected herds if it is done within maximum of a week after the outbreak. Report suspected cases immediately to the veterinary authorities in your area.
Rift Valley Fever(RVF)
Age: 6 months and above
Application: Some vaccines are live vaccines so handle with care. RVF in humans can be deadly so control is very important
Lumpy Skin
Age: 1 month and a bove
Application: Preventive when there is a risk of outbreak.
Comments: If using live vaccine, separate cattle from sheep and goats, as the vaccine is derived from modified sheep pox virus which can cause pox in sheep and goats.